This earth we live on is pretty amazing. Systems work in harmony fostering conditions to promote various forms of life. The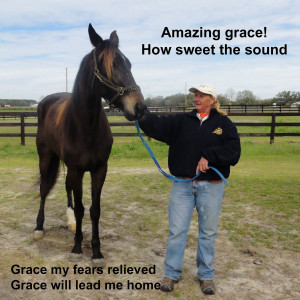 world rotates around the sun exposing each section in its turn to allow for growth, light, heat and other resources. Water, earth, minerals and vegetation work in a variety of ways to provide for life on earth.
The human body is amazing too. Just think about our skeletal, cardiovascular, digestive, respiratory, immune and other systems sending signals back and forth.
God's grace is even more amazing than anything we will find on earth. "God is able to make every grace abundant for you, so that in all things, always having all you need, you may have an abundance for every good work" (2 Corinthians 9:8). God knows just what we need when we need it and is ready to bless us if we are ready to accept the blessings. Remember, God created the earth, the humans and all of life.
Have you ever felt like your ship was sinking like sailor John Newton who wrote Amazing Grace? Perhaps you were really stressed out struggling to pay the mortgage and the mountain of credit card bills. Then you had to miss work to care for a sick child or parent, causing problems in the office or the shed row. In the midst of this, the horse you raised is in to go.
Grateful for the kindness of faithful friends keeping vigil with the sick, you race to the track. Dashing to the rail, you watch your filly make it to the top in the first turn. She sets a decent pace, keeping the horses together until the half. Then the favorite pulls out. You are neck and neck. Your pride and joy looks the contender in the eye and pulls away. In the winner's circle you are showered with congratulations from your co-workers and are gratified to hear from them that everything worked out fine. Then in three days you pick up a nice check from the bookkeeper. You are down to the wire on the bills, but the extra 10 days grace period keeps you from foreclosure and losing your credit. You have not fallen from grace after all.
With your trophy comes a meal in the clubhouse–gratis. Bowing your head in thanksgiving, you realize God has showered much grace upon you. God's grace is amazing! Do we take time to realize the source of our blessings?
Grace is mentioned 125 times in the Bible. John tells us "grace and truth came through Jesus Christ" (John 1:17). All the letters in the New Testament extend God's grace to the communities that received them. Jesus tells Paul "My grace is sufficient for you, for power is made perfect in weakness" (2 Corinthians 12:9).
God is really all we need. God's grace will see us through every situation. God's grace assures us who believe a place in paradise for all eternity.
by Chaplain Lee Alphen
Please comment on this article at www.chha.net/what's-amazing.