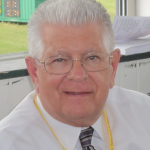 The Christian Harness Horsemen's Association (CHHA) is delighted to welcome Roger Huston, the voice of harness racing, the voice of the Little Brown Jug and the voice of TheMeadows to its board of trustees.
Roger is a Godly man who loves harness racing and the people involved in the sport. Roger brings to CHHA his knowledge of the industry as well as the many contacts he has throughout all of Harness racing. 2015 is off to a great start for the CHHA. God blessed the CHHA with the gift of Roger Huston and his contagious enthusiasm.
The Board of Trustees looks forward to working with Roger to generate excitement for keeping Christ alive in harness racing.