Praise reports, testimonies, articles wanted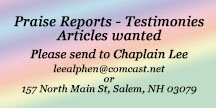 Has God been working in your life? Absolutely! Please write and tell us how God is blessing you. Chaplain Lee just might post it here on our website or print it in the newsletter. Submissions can be very brief or up to 350 words.
You may submit it on the form below or send it by email or mail it to the address on the graphic above.