Jug Week Prayer Breakfast
7:30 Wednesday, September 20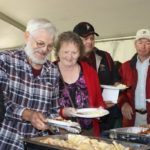 Join us for a free gourmet breakfast and prayer service Wednesday, September 20th at 7:30 AM in the Backstretch Hospitality Tent across from the Log Cabin on the Delaware County Fairgrounds.
We will praise God with the beautiful music of the Truitt Family. Breeder and preacher, Jeff Stacy is sure to inspire us with a great message. Faith Hawes of the Truitt Family assures us, "Pastor Jeff will bless your heart." Come and pray with us for good racing and the safety of everyone at the fairgrounds. Come share in the celebration of God's many blessings on our families, our racing stables and our friends!
Plan to join us – it's FREE! at the Backstretch Hospitality Tent (across from the Log Cabin), Delaware County Fairgrounds
Register here so we will know how many eggs to cook.
We will be praying for the safety of everyone, including the horses, at the Fairgrounds.