News
What a great experience we had at the Little Brown Jug this week. Meeting up with old friends and making new ones. God blessed us with perfect weather, good racing and the setting of new world records. To top it all off we fulfilled the CHHA mission. God's name was praised at our prayer breakfast and all around the fairgrounds.
Promoting harness racing in a positive light is also part of the CHHA mission. We were fortunate that Columbus Dispatch reporter, Dean Narciso and cameramen Doral Chenoweth and Adam Cairns followed me around. God evidently was pushing them to feature the racetrack chaplain in their Jug reporting. As Sam McKee said, "Some divine intervention is not a bad thing." God led us to Jenny and Brian Brown's Stable where Melinda Bailey welcomed us to video her very well behaved horses.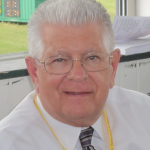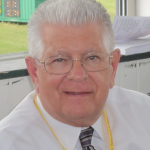 The Christian Harness Horsemen's Association (CHHA) is delighted to welcome Roger Huston, the voice of harness racing, the voice of the Little Brown Jug and the voice of TheMeadows to its board of trustees.
Roger is a Godly man who loves harness racing and the people involved in the sport. Roger brings to CHHA his knowledge of the industry as well as the many contacts he has throughout all of Harness racing. 2015 is off to a great start for the CHHA. God blessed the CHHA with the gift of Roger Huston and his contagious enthusiasm.
The Board of Trustees looks forward to working with Roger to generate excitement for keeping Christ alive in harness racing.